A Bridge Over Trouble
A cable-stayed bridge over the Fraser River and a big earthquake could make for massive problems
Daniel Wood is an investigative journalist uncovering the truth behind the Massey tunnel replacement
For those hoping to halt the export of thermal coal from the lower Fraser River, it's useful to consider a century-old American spiritual song that illustrates an essential principle:  
The toe bone's connected to the foot bone.  Foot bone connected to the heel bone. The heel bone connected to the ankle bone.  
In the case of thermal coal, nothing will stop this export project without connecting it to:
a) the removal of the perfectly good Massey Tunnel;
b) the construction of a $3.5 billion, cable-stayed replacement bridge over the Fraser;
c) and the subsequent dredging of the river to allow bulk carriers and supertankers upriver to service the import/export facilities proposed for the new Fraser River economic zone.
If these three things do not happen, massive bulk shipments of American thermal coal will not happen either. 
So where are the weak points in the Port Metro Vancouver strategy to industrialize the Fraser estuary? Where is the plan most likely to fracture?  There are, in fact, a lot of weak points. But here's an important one that few know about, and which could cripple the entire Massey Tunnel/ Bridge Replacement Project (MTBRP).
As Richmond City Councillor Harold Steves explains to me while we chat on the Fraser River's Richmond river bank —  at the precise site of the proposed bridge's northern tower — there's a reason former Social Credit premier W.A.C. Bennett opted to follow engineering advice in the late 50s, and agreed to put a tunnel under, instead of a bridge over, the river.  
This is because there's no bedrock there upon which to base a bridge's massive towers.  And Steves hands me a colour-coded map of Richmond labelled 'Liquefaction Hazard Map of Richmond.'  (Liquefaction is the action of soil turning to oatmeal-like mud during severe earthquake vibrations.)  In a scale from light yellow through orange to bright red, it shows that all of Richmond has been built on liquefaction-prone sediments deposited over the millennia by the Fraser.  Most places are orangish.  But a one kilometer-long riverside crescent is bright red, indicating it is most prone to liquefaction.  And that place is exactly where Steves and I stand, and where the bridge's 75 meter-high northern tower would go.  Solid bedrock lies beneath 600 metres of alluvial dirt.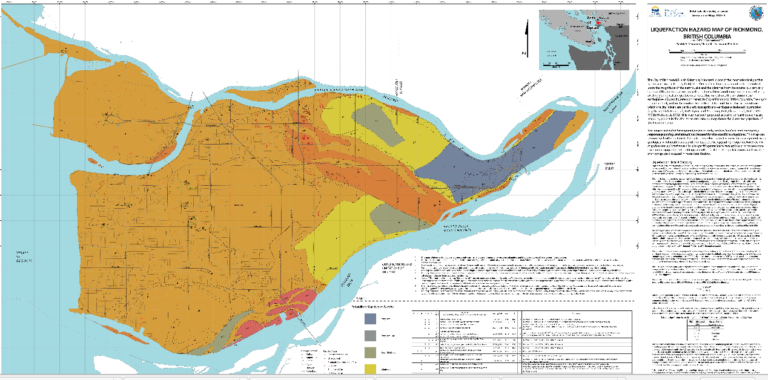 Liquefaction Hazard Map for Richmond, BC
Says Steves, "If liquefaction happens, the bridge won't actually fall down.  But it will — just as tall buildings do in big earthquakes — shake. It  could affect the tension of the bridge's steel cable-stayed support."  He laughs at the irony that BC Liberals want to remove a free, perfectly good, seismically upgraded (2006) tunnel — said to be good for 50 more years — and replace it with a massive, 3 kilometer long toll bridge that could, in a big earthquake, be rendered unusable by the effects of liquefaction. "They want to put a big bridge here?" he says of the BC Liberals, shaking his head at the project's riskiness.  "They say the tunnel is a seismic danger.  That's just an excuse to remove the tunnel and dredge the river for bigger ships.  It's the bridge that's the real seismic danger."