Elections
So Alex Cullen is in, Jim Watson might be in, O'Brien probably it seems.
Post any other news/rumours/speculations here.
The celebration that went unnoticed (by the bourgeois media):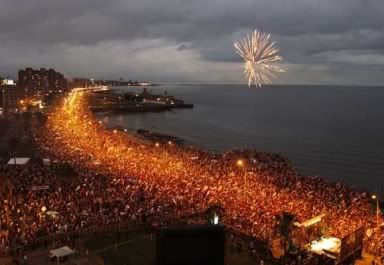 Frente Amplio wins in Uruguay. Jose "Pepe" Mujica will continue to represent the left wing coalition as President of Uruguay.
UnionSupporter wrote:
Maybe I'll try somewhere else. Cheers
I'm hoping UnionSupporter will return to lead the discussion he started. Hopefully it can be more successful than the first thread.
As I may have contributed to the initial disruption, I won't be participating here. I would hope some self-assessment will take place, and that some of the other guilty parties would similarly bow out and lurk for a change.
The WAP picked up Calgary-Glenmore last night, a seat that they had previously struggled to win 10% in. Will the WAP be a Western Canada Concept style flash in the pan, or can they give the Alberta PC's an elbow in the teeth from the right?
I don't see them sweeping to power in the next election or anything, but I wouldn't be shocked if them leapfrogged the NDP and Liberals and made official opposition.
Please tell me what you think of this new anti-campbell ad. It's part of COPE 378's MoveForwardBC.ca campaign. It was made in Vancouver by a young film crew. It touches on Campbell's exploits in Maui, Kinsella, Using the Carbon Tax to fund more road building and the legislature raids.
If you like the video please forward it to some of your progressive contacts that might enjoy the laugh. Thanks for your feedback - Vote May 12!
You can also view our other attack ads here.
The world's largest democracy votes next month and it appears that the result is uncertain, depending mostly on the results and willingness to join coalitions of smaller parties rather than on the main two.
Pages