Labour
SFU Harbour Center
515 West Hastings Street
Room 1400
V6B 5K3
Vancouver
,
BC
Canada
49° 17' 3.0048" N, 123° 6' 43.5132" W
British Columbia CA
Furthering our understanding of capitalism as a system that intersects with other forms of oppression, this event focuses on sexism, patriarchy and gender.
Quote:
Wearing brick-red scrubs and chatting in Spanish, Miguel Alquicira settled a tiny girl into an adult-size dental chair and soothed her through a set of X-rays. Then he ushered the dentist, a woman, into the room and stayed on to serve as interpreter.

 

A male dental assistant, Mr. Alquicira is in the minority. But he is also part of a distinctive, if little noticed, shift in workplace gender patterns. Over the last decade, men have begun flocking to fields long the province of women.

 
Agricultural Workers Alliance
14 Albert Street
Selkirk Park on John St. and Albert St.
N8H 1H5
Leamington
,
ON
Canada
42° 3' 12.3948" N, 82° 36' 10.1952" W
Ontario CA
Appreciating the efforts of migrant farm workers
Why I wrote Solidarity Forever
[quote]In the pantheon of American labor history there is a very special place for Ralph Chaplin, the man and his work. As the poet laureate of the Industrial Workers of the World (IWW), he is probably remembered best for giving organized labor its fighting them song, Solidarity Forever. But to those of us who were privileged to work with him at the Washington State Historical Society during the last few years of his life, Ralph Chaplin will always be honored for more, much more.[/quote]
May 15, 2012

to

May 16, 2012
Purple Thistle Center
Vancouver, Coast Salish Territories
,
BC
Canada
49° 16' 33.9204" N, 123° 4' 43.5324" W
British Columbia CA
To celebrate the launch of this creative activists' toolkit, Purple Thistle will convene a conversation among local activists and the co-editors and contributors of Beautiful Trouble about the state a
On May 1st, we shall collectively come together and reject Harper's agenda and build towards a better society.
On Tuesday May 1st Edmontonians will gather at 112th Street and 82nd Avenue, joining millions demonstrating internationally in defense of the rights of workers and the rights of all.
A call has come, from OWS, from Occupy Canada, and from the people of the world. This call out is to stop working, stop school, stop shopping, stop driving, stop consuming from this corporate machine.
Vancouver Art Gallery
Vancouver
,
BC
Canada
49° 16' 59.4804" N, 123° 7' 15.4092" W
British Columbia CA
Demand democracy, freedom of expression and assembly, restoration of the right to strike and to occupy!
Gyro Park, Penticton
100 Main St,
City Public Park
Penticton
,
BC
Canada
49° 30' 6.2748" N, 119° 35' 38.1912" W
British Columbia CA
The South Okanagan Boundary Labour Council is hosting its 3rd annual International Workers Day event at Gyro Park in Penticton on Saturday May 5th.
City Hall
Winnipeg
,
MB
Canada
49° 53' 59.1144" N, 97° 8' 14.9784" W
Manitoba CA
The annual May Day March is organized by the Winnipeg Labour Council in recognition of International Working Class Day.
Vimy's memory holds fast, 95 years on
Join the DEPARTMENT OF PUBLIC MEMORY for a hands-on investigation of our research on Toronto's public services.
May 10, 2012

to

May 14, 2012
Beit Zatoun
Toronto
Canada
43° 39' 53.2584" N, 79° 24' 44.6868" W
CA
Bringing together Filipino-Canadian artists and community, Maleta crosses multi-disciplinary art practices
Jan 1, 1970

to

May 6, 2012
Meet in front of St. Lawrence Hall, 157 King Street East
Toronto
Canada
43° 39' 0.7992" N, 79° 22' 20.2152" W
CA
Led by JP Hornick, Maureen Hynes and Sue Smith, explore the oldest section of Toronto, our "Old Town," with its vibrant and turbulent past.
Ryerson Students' Centre
Toronto
,
ON
Canada
43° 39' 28.7352" N, 79° 22' 42.6864" W
Ontario CA
LeftWords is a free public event that celebrates and promotes the work of Canadian and international writers and thinkers whose works appear in books and magazines by Canadian independent publishers.
That's Women's Work Office
26 Columbus Ave, Toronto, Ontario M6R1S2
Office #1
M6R1S2
Toronto
,
ON
Canada
43° 39' 1.332" N, 79° 26' 45.0456" W
Ontario CA
Free Monthly Women's Entrepreneurial Group
I am deaf-blind in one eye (Usher syndrome) and ASL native speaker, I've been looking for jobs since i was high school graduate i trying to find job at Government of Nunavut, they never pick me up I've been sent them resume many times and not invite interview. some store accepted me can work at local store for stockingboy or cashier in few months then i quit but i really want different job like im union or social worker etc. i am unemployment. My deaf friend have same me, she has most hardest time to find job that she been many time interview like 5-10 times they never pick her up cuz she is deaf? same thing me they never pick me up cuz i am deaf? pfft make me so angry. We decide go to college/university instead for good!
Quote:
Swiss citizens have rejected a proposal to have six weeks' paid vacation per year instead of four, amidst warnings that two more weeks without work could cost the country $6.5 billion US a year in labour costs.

An estimated 67 per cent voters rejected the proposal, Reuters reported, one of many decided upon Sunday in several national referendums.
* Please Forward Widely *
Public Lecture Series:
Money for Education Not for War!
No to War!
Yes to Teachers!
Stop Attacks at Home and Abroad!
> > > > > > > > > > > > > > > >> >
TUESDAY March 13
7pm
Britannia Community Center
1661 Napier St. at Commercial Dr.
> > > > > > > > > > > > > > > >> >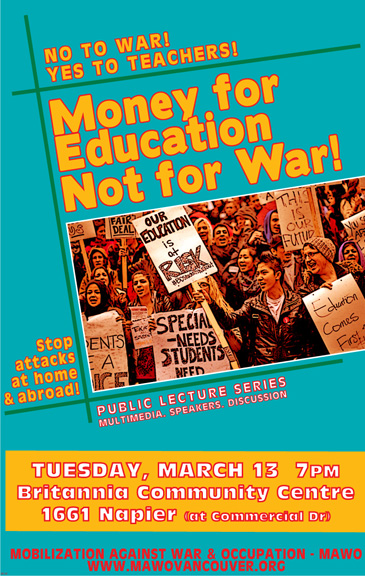 * Please Forward Widely *
    Public Lecture Series:
    Money for Education Not for War!
    No to War!
    Yes to Teachers!
    Stop Attacks at Home and Abroad!
Pages