World
Beit Zatoun
612 Markham St. (Bathurst subway)
Toronto
,
ON
Canada
43° 39' 11.6136" N, 79° 22' 59.4624" W
Ontario CA
The shocking Australian film 'Stone Cold Justice' presented by Reel Activism.
Beit Zatoun
612 Markham St. (Bathurst subway)
Toronto
,
ON
Canada
43° 39' 11.6136" N, 79° 22' 59.4624" W
Ontario CA
A cultural night commemorating the Resistance Against 15 Years of War in Afghanistan.
A  military coup d'état  is being reported in Turkey.
The Mansion,
Kingston
,
ON
Canada
44° 14' 5.0568" N, 76° 29' 47.4612" W
Ontario CA
A launch of Cuba Beyond the Beach, A Place in the Sun, and Canada and the Third World.
Aug 12, 2016

to

Aug 13, 2016
Mel Lastman Square
Toronto
Canada
43° 46' 2.3772" N, 79° 24' 53.136" W
CA
Peace Fest encapsulates our passion for social justice and hopes for a brighter future as we shed light on the dark chapters of the history of the Second World War in Asia.
There are already "bombs" going off about the forthcoming Chilcot report, which stands to implicate Bush, Blair and lots of people in the UK, US and elsewhere who supported the war on Iraq (including Hillary Clinton, and some right-wing Labourites). I don't want to create more thread proliferation, but think this might warrant its own thread. What do others think?
...from Middle East Monitor....
It's unlikely that the Chilcot Inquiry will provide meaning to an enormous personal loss, but will it at least heal the political and social trauma caused by Tony Blair? To mend Iraq's wounds in any meaningful way there has to be a sense that justice has been seen to be done for what was a deception of enormous magnitude and consequence. The final judgement of Tony Blair has to be nigh.......
May all the war criminals receive their final justice...let us remember the war criminals in Canada responsible for the wars in Libya and The Autonomous Republics of Ukraine!
United Steelworkers Hall
Toronto
,
ON
Canada
43° 39' 23.5116" N, 79° 23' 45.7476" W
Ontario CA
Join us for a public forum and discussion abut the referendum and its implications in Canada and abroad.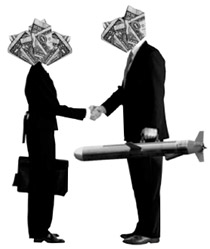 The Canada Pension Plan (CPP) is now investing over $1 Billion in 31 of the World's Top 100 War Industries (Click the link above for a data table listing CPP investments in the top global weapons makers.)
On Monday, June 6, the CPP Investment Board (CPPIB) is holding public consultations in nine Canadian cities.  Here's where and when these meetings are taking place.
Sep 24, 2016

to

Sep 25, 2016
Mattamy Centre at Maple Leaf Gardens
Toronto
,
ON
Canada
43° 39' 42.948" N, 79° 22' 49.0224" W
Ontario CA
Alternatives
3720 Avenue du Parc, 2nd Floor
Montreal
,
QC
Canada
45° 30' 40.266" N, 73° 34' 39.432" W
Quebec CA
Educated at Delhi University and the Tashkent Institute of Oriental Studies, Dr. Zaheer is a well-known feminist, author and journalist who writes in Hindi, Urdu and English.
Beit Zatoun
Toronto
,
ON
Canada
43° 47' 31.4592" N, 79° 14' 16.3464" W
Ontario CA
To honor the victims we are screening the 2014 Japanese documentary 'Children of Chernobyl 28 Years Later: A report on low-level, long-term radiation exposure.'
Apr 28, 2016

to

Apr 29, 2016
The Tranzac Club
Toronto
,
ON
Canada
43° 39' 54.8424" N, 79° 24' 27.2052" W
Ontario CA
Focusing on the limits and possibilities of academic freedom this panel will explore the questions of ethnicity, caste and nationality in Turkey and India.
Toronto
CBC Radio One and SiriusXM Channel 169
Toronto
,
ON
Canada
43° 39' 11.6136" N, 79° 22' 59.4624" W
Ontario CA
CBC Radio Ideas presents IMPRISONED BY PROFIT: MEDIA AND DEMOCRACY with acclaimed Indian Journalist Palagummi Sainath.
Vancouver Public Library – Central Branch
350 W. Georgia St. (@ Hamilton)
Vancouver
,
BC
Canada
49° 16' 47.8668" N, 123° 6' 51.2244" W
British Columbia CA
Vancouver Communities in Solidarity with Cuba (VCSC) and other organizations from across the city are proud to welcome Gerardo Hernández, one of the Cuban 5 Heroes.
Vancouver Public Library - Central Branch
Vancouver
,
BC
Canada
49° 16' 46.938" N, 123° 6' 56.25" W
British Columbia CA
Join Fire This Time and revolutionary speakers from Cuba, Venezuela and the U.S. to discuss and celebrate the gains and confront the challenges of building a better world together!
Truthfully, Stephen Harper should be behind bars right now for obstruction of justice and the investors of Affinity Capital in Toronto have plenty legal grounds for a $50 million law suit with no shortage of witnesses and evidence.
Pages