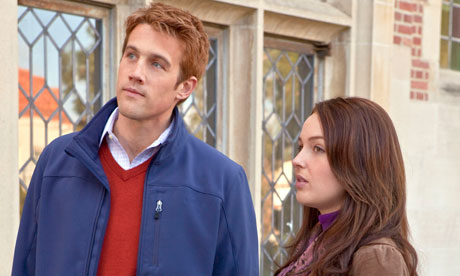 <
William and Kate: The Movie – so bad it'll probably be a smash
Kate Middleton once undertook on the Thames at Chiswick being transposed to the High Sierra.

The film has sparked a worldwide media frenzy, according to its promoters. This is the Wedding of the Year as imagined in Wichita or Wyoming, with dialogue so authentic it follows you round the room. As in all the best plays, they tell each other things they must already know. "I say, Wills," says Prince Harry. "I am not the heir. I am just the spare."

"You do realise this is the 21st century?" Kate expostulates to her etiquette coach. "In your world, perhaps, but not in his," said coach replies portentously, and a million heads will nod knowingly, from Houston to Hawaii.

Monarchists abroad may be shocked when William informs his intended that half the country loves his family and the other half thinks they are irrelevant throwbacks – a little bit of social comment there – but they will soon be back on track when he adds reassuringly: "My mother was one of the people. She tried to change the monarchy."

Kate replies: "We'll still be us. Nothing will come between us." At which point some in the audience at the film's preview unaccountably began to titter.
Perhaps the PR handout gives it away: "Shot entirely in Los Angeles and inspired by true events." That might account for the mountains in the backdrop to a pheasant shoot in Gloucestershire, buses driving on the right in London, the Middletons' modern house transformed into a Californian Tudor mansion and the famous dragon boat race training that 
Please keep arguments for and against abolishing the monarchy out of this thread. This thread is for mocking the repulsively rich and privileged. Tx.