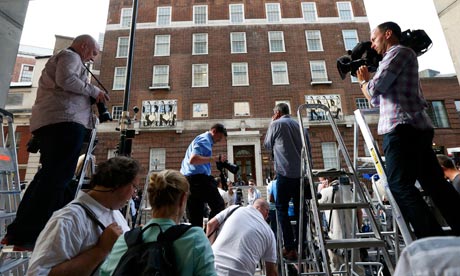 'I've never seen so many cameras'
No such doubts existed among the overseas visitors, of course, for whom an imminent royal birth could almost be seen as a new element to heritage Britain. Jean Menzies, 65, on holiday from Australia with her husband and friends, was impatiently watching an Italian man carrying a large and distinctly eccentric self-made oil painting of Kate with her newborn tell a TV crew he was, at heart, a republican.

"Oh no, we don't agree with any of that," she said, dismissing her own country's flirtation with removing the Queen as its head of state. "I think that's just about fizzled out now. Just a few activists and Labor party types trying to stir things up."
RULE BRITANNIA