January 18/2010 - TORONTO - At the funeral of Sergeant Ryan Russell, 35, of Toronto Police Service (TPS) over 12,000 police and public attended the funeral service at Metro Toronto Convention Centre (MTCC) just down the street from Air Canada Centre where they had the service on the Jumbotron.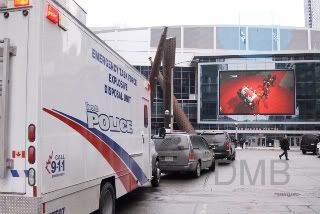 There was an eerie silence in the main hall at the MTCC as the family and friends marched in the packed room, another room for the overflow was assigned down the hall with video connection of the service.
The funeral service was delayed because of the numbers attending and after the march down University Avenue of over 8000 officers from all over North America was well organized and impressive.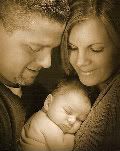 After the family entered and were directed to there seats right at the front as the casket was brought in it was placed on the podium in front of the stage, two year old son Nolan Russell said, "Mommy where's Daddy" as his mother Christine Russell drew her fingers through the youngsters hair.
Officers came from all over North America, with badges from such places as Cleveland, New York State, New York City, Sudbury, North Bay, Montreal, Timmins, Saskatoon, RCMP in their full dress red tunics, OPP and nearly every force around the Toronto area. Many first line workers Fire, Ambulance, and Emergency services were also well represented.
A group of dedicated officers even drove from St. John, Newfoundland to attend the service. The media coverage was extensive as it was shown live on most Toronto stations and live across Canada on CTV News Channel. Sergeant Russell worked out of 52 division in downtown Toronto was killed on the job as he was trying to stop a stolen snow plow that went on a rampage for over two hours through the streets of Toronto on Wednesday morning. The suspect has since been arrested and charged with first degree murder and was shot several times by police and is recovering in hospital. The full snowplow incident can be viewed HERE. A glowing tribute to the 11 year veteran can be viewed by clicking HERE in the Toronto Star.