With Chanukah and American Thanksgiving just around the corner, and festivals of light and Christmas not far behind, some of my friends are at a loss as to what kinds of presents to give or how to connect with their family, friends or communities across the miles. I was mentally masticating on this conundrum as I picked up a wonderful anthology I am reading, Murder for Christmas.Then it struck me like a frying pan to the face—WHAT A GREAT PROJECT TO DO! This being an arts-in-ed blog, I am hoping none of my readers freak out, but instead read on to my three simple, fun, easy ways of celebrating whatever you celebrate with people you care about. AND these suggestions have a base cost of ZERO; what you spend on folks is your time.
Write a group story.

Choose a holiday or holiday theme (lighting candles or sledding, for example).

Choose a character (or a few) that is a source of fun or remembrance for the group. Garden gnomes, my grandmother, and dogs are always great story centerpieces in my family. Think of an event or story that is true, and let your mind wander about mischievously to alter it a bit. Write a short paragraph that has a cliff-hanger and some implied action. Next is the tricky bit, and should be adjusted based on to whom you are reaching out, because you want people to participate in a way that is comfortable for them, and you want it to feel easy—and sometimes these two things require opposite kinds of organization. My suggestion is send out on the email waves your idea,your paragraph and a list of dates for people to choose (so that the story will have a linear path). For example, maybe have it set up for the 8 days of Chanukah or every-other day leading up to Christmas Eve. Then send out the final version to everyone, or record yourself reading it and send that out, or have a video hangout and share it together! Cost: NOTHING. If you need public access to a computer, this kind of usage is free at most libraries, and it is simple to do.
2. Create a Holiday-Themed Crime Scene.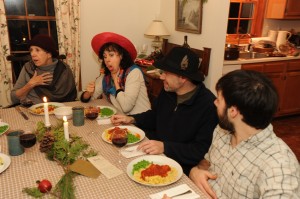 You know I create interactive mysteries for events and for homes, and yes that is hard to do. BUT this idea is much simpler and can involve everyone, and is terrific for children. In a nutshell, there are those creating the crime scene, and those who will be detectives. For example, maybe the grown ups are creating it and the kids will be the detectives. Side note: more than one household can have the same group-created crime happen! The Crime Creators choose a theme, then a crime (something is missing ((Stolen? Lost? Transmuted? Etc)), someone has been kidnapped, some place has messily searched), then decide the 'who' and the ' why'--again, family jokes or themes or stories work best. Set the stage and voila! Help solve the crime and make sure sweets and treats are there for rewards. Making these choices as a group-- maybe even different people get to have final say for different aspects-- makes it all the more fun. Then on the day of the event, perhaps there is a phone call or an email clue that helps solve the mystery. Video tape the same mystery playing out in different homes, and share that, or just talk on the phone afterwards and be sure to have the kids swap solving stories. A terrific advantage to these is that there isn't any real writing involved. Cost: can be as low as zero—just use what you have!
3. Make your own anthology of remembrances.
Many of us have had a family or group member collect photos which are then made into a little book (digitally or physically) for a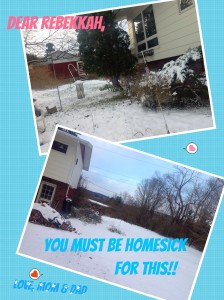 holiday. This idea is similar, and has the advantage of everyone being able to do their part –or not-- without very much structure. The point person (you) chooses a person or theme. Keep it narrow, because people do better with some specifics to spark their memories and with some structures to build on. Put out a call or email blast, include a deadline and your own example, and collect the mini-stories and memories as they come rolling back in. For example, I might ask people to share a memory of a time we were all together, including my Texas family. Or, I might suggest that each story have a pet in it, or involve my grandmother. Once you receive the stories, organize them into an arc, maybe add a photo or two (in the word doc or on paper), and voila! A lovely group gift that will be a surprise for everyone in the group. If it is all digital, the cost is ZERO and this project can easily be done at any library. Or use something shutterfly, vistaprint, snapfish et cetera to make an inexpensive lovely 'book' with more pictures.
Thank you for reading this story…
More people are reading rabble.ca than ever and unlike many news organizations, we have never put up a paywall – at rabble we've always believed in making our reporting and analysis free to all, while striving to make it sustainable as well. Media isn't free to produce. rabble's total budget is likely less than what big corporate media spend on photocopying (we kid you not!) and we do not have any major foundation, sponsor or angel investor. Our main supporters are people and organizations -- like you. This is why we need your help. You are what keep us sustainable.
rabble.ca has staked its existence on you. We live or die on community support -- your support! We get hundreds of thousands of visitors and we believe in them. We believe in you. We believe people will put in what they can for the greater good. We call that sustainable.
So what is the easy answer for us? Depend on a community of visitors who care passionately about media that amplifies the voices of people struggling for change and justice. It really is that simple. When the people who visit rabble care enough to contribute a bit then it works for everyone.
And so we're asking you if you could make a donation, right now, to help us carry forward on our mission. Make a donation today.