It may still be the case. But for almost 20 years, Stephen Harper and perhaps a few before him, as well as his personal friend Mike Huxtable, made it easy and profitable for loads of cocaine to be flown into Weyburn (SKN) and Chapeau (MTL) by the Uncle Sam cowboys Terry Nelson, Steve Finta and their pilots Curt Emmer and others. The below chart surfaced at worldlawdirect.com where a user "Nico" posted part of book manuscripts seized from a former U.S. agent that sought sanctuary in Canada as a refugee in 2000. The guy's name was Bruce Gorcyca and within days of visiting Amnesty International he was detained illegaly by Immigration Canada in maximum security confinement for 10 months "at the request of the U.S. Justice Department".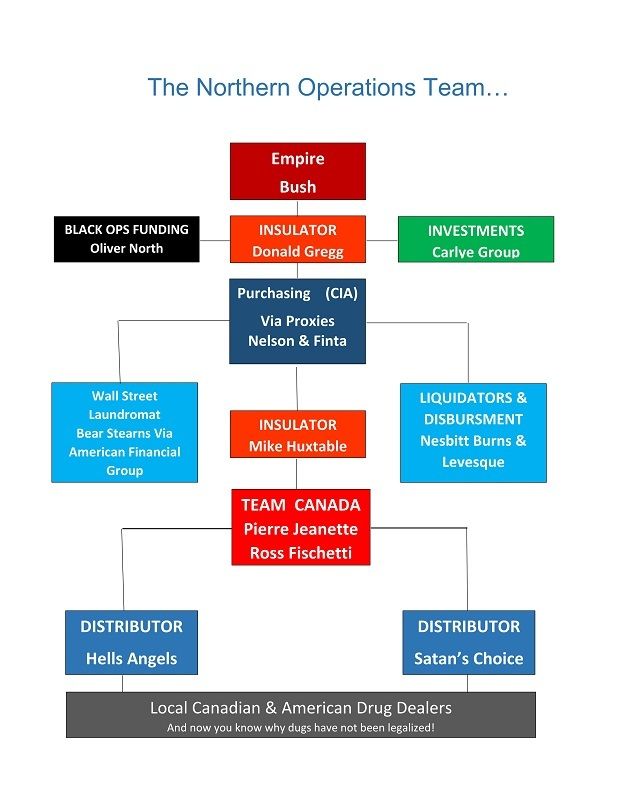 Maybe just a coincidence that his book exposed former U.S. Justice Department officials Edward Chism (http://americanfinancialgroup.worpress.com) and corupt FBI agent Terry Nelson, both friends of the BUsh family and both comitting crimes in Canada for the Bush family. Chism worked in Panama for 20 years for Uncle Sam where he married Teresita Tapia the personal banker, translator, sexretary of General Manuel Noriega, who according to Noriega's former pilot, was business partners with George H. Bush and a CIA asset according to former DEA Director John Lawn.  Terry Nelson who lived less than 7 miles from Chism in Miami had Atty. Steve Finta deliver $16 million in cash to AFG offices at the request of Nelson who was met at the Bush Florida home by former CIA pilot Chip Tatum (Google him).
According to Gorcyca and other witnesses (George Morales, Johnny Molina, Alberto Duque, Erling Ingvaldsen, and others including a handful of honest DEA and RCMP officials) after Oliver North's operation was busted in 1986, all those planes full of cocaine started flying in to Canada, where Nelson and Huxtable were actually caught red-handed in 1997 - and allowed to jump bail http://www.mapleleafweb.com/forums/topic/24998-will-harper-unseal-terry-...
But with Gorcyca and Ingvaldsen in Canada there was a good chance they could blow the lid off all of the above and both were arrested on fabricated charges to discredit them in case they talked on their own, or subpoenaed by others in an RCMP corruption probe involving another Nelson bud RCMP Pierre Jeanette. Since Huxtable was a friend of PM Stephen Harper, Bush and Nelson used Mike to give Harper a $3 million gift to keep matters well concealed. http://www.worldlawdirect.com/forum/law-news/91146-uncle-sam-seized-book...
But now that Harper is playing golf and with his cats, he is no longer in a position to cover up the massive drug smuggling allowed on his watch. Both Ingvaldsen and Gorcyca brought the matter to his attention in writing, and he simply ignored the correspondence, and did his best to get both Ingvaldsen and Gorcyca booted out of Canada before they could become witnesses against him and his generous friends from America. http://www.opnlttr.com/letter/open-letter-pm-justin-trudeau-help-exiled-...
So odd that all the whistle blowers and witnessed involved either get slain (murdered) or become victims of fake criminal charges  eh? For a real hoot read the 11 page sworn report of Canadian private investigator Ed Reiken in the exhibit section of this Law Society complaint: http://bruceslawsocietycomplaint.wordpress.com