'Tentative date' of May 15 agreed for Mueller to testify before Congress
Democratic congressman David Cicilline says on Fox News: 'We hope that the special counsel will appear'
Victoria Bekiempis in New York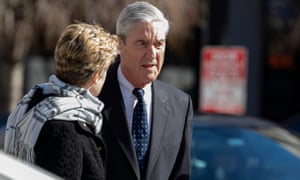 Special counsel Robert Mueller. Photograph: Tasos Katopodis/Getty Images
https://www.theguardian.com/us-news/2019/may/05/robert-mueller-may-15-tentative-date-testimony-before-congress
Robert Mueller may be one step closer to being questioned in public on Capitol Hill, with a representative of the special counsel saying he has agreed to testify before Congress, according to a Democratic congressman on Sunday.
Rhode Island congressional Representative David Cicilline said a "tentative date has been set of May 15" for Mueller to testify, he told host Chris Wallace on Fox News Sunday.
"We hope that the special counsel will appear," he said at first.
Pressed on whether Mueller had actually agreed to testify, he added that "a representative for the special counsel has".
Advertisement
Cicilline couched his remarks by saying that "obviously", Congress would not know definitely that Mueller is testifying on this date until the day comes.