This past weekend, I met a man who is a jouster (sigh!). I had been invited to join a joust-training team years ago, but the commute was too far to make it work, and I had been PINING to do it ever since. I have always loved adventurous, physical things, and I do enjoy both sword fighting for stage and horse-back riding. So of course I want to joust, right? Doesn't matter that I am female, relatively small or just had a mid-forties birthday… oh crap, maybe that last one does matter.
For the first time in my life, I am wondering if I may, in fact, be too old. If maybe my hardcore determination and Jack Russell ferocity are not enough to carry me through. Of course, I resisted this idea whilst I was talking with the 6'2", 32-year old blacksmith/jouster, and we are going to meet in a couple weeks to whack each other with swords… but I am actually a little worried about saving face as well as saving my face and, well, being able to actually get back up swiftly.
As always, I have looked to other artists for inspiration, artists whose bodies define their career. How did they deal with age? Do less, do differently? Is aging actually only defined by loss, or is something gained as well?
I have opted for the Mikhail Baryshnikov version of getting older.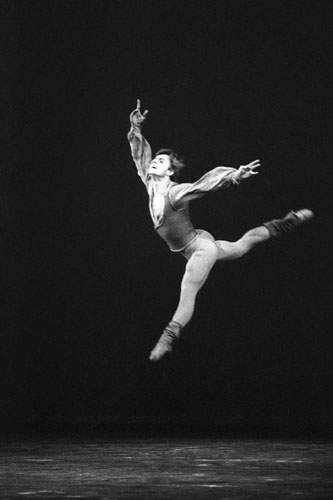 When I was a child living outside Saratoga Springs, NY, Baryshnikov defected from Soviet Russia and became a premier dancer with the NYC Ballet and the American Ballet Company. It was rumored that he redefined what "leap" meant.
It was rumored that he was captivating and powerful in ways never before seen in American ballet . . . and it was rumored that his debut might happen during the Ballet's summer residency in Saratoga. Then my mom got a tip — Misha might debut in a matinee performance of Coppelia the following day! We went, and sure enough, a small slip of mimeographed paper announced the replacement of the primary male dancer that day by Mikhail Baryshnikov. Needless to say, all the other rumors were true as well. The man soared and flew, and we watched, hardly believing our eyes as his raw power revealed itself.
Fast forward about 15 or more years to when I was teaching at the Greater Hartford Academy of the Arts, and had a chance to watch Misha and his White Oak Dance Project at the Bushnell. Misha was in his mid-forties
then, and I wondered as the lights went down if I would feel remorse at a loss of his tremendous power…. until he began to dance. Full of a richer power and exquisite grace, he did not seek to recapture the sky as he had in his youth, did not try to reproduce a lesser version of a previous self, but rather continued to redefine dance itself, explore what 'power and grace' mean. It was mesmerizing.
Fast forward again about 20 years to the present time. I had not thought about Misha in quite some time until I happened to note a friend's post on Facebook. She lives in Hartford, CT and had posted the review for a theater production at the Hartford Stage Company; Man in a Case by Anton Chekhov and starring… Mikhail Baryshnikov.
Here's an excerpt from a review in The Hartford Courant:
"Watching Mikhail Baryshnikov on stage performing in a tale about the only man — a strange, repressed and fearful Greek teacher — in a rural Russian village who can't dance may be frustrating for some audiences. But this legendary artist still moves like a dream, which is an apt metaphor for this woozy, sly and theatrically adventuresome kind of story telling."
I have included two more excerpts from reviews in the Post Script to this blog, but suffice to say, they all speak of Misha once again creating new meaning and expression of power, one which includes textured, subtle impact, seasoned with his irrepressible grace.
Okay, so maybe I am no longer able to learn something like Parcours, nor use brute force and ferocity to excel in a male dominated physical performance medium. But I can use my years of training and learning to find textured, subtle, impactful alternatives, both on stage and, so help me gods, in the medium of Live Steel, where the parameters/rules keep participants relatively safe but the fighting is live and the jousting is for keeps. I can redefine 'power and grace' for myself.
Thanks, Misha.
For those who wish to see a wonderful retrospective, here's a link to when Mikhail Baryshnikov was honored at the Kennedy Center in 2000 (video link here).
Post Script
"Baryshnikov can insist all he wants that there's no dancing in "Man in a Case." But perhaps one of the most moving scenes in the play involves a scene where the character Baryshnikov plays in the second half of "Man in a Case" recounts how he fell in love with another man's wife one day. Soon after, he and the woman (played to perfection by Tymberly Canale) slowly dance on stage. No words are spoken. But in just a matter of seconds, we can see why these two characters are torn over what to do after moving in unison in silence."–Springfield Republican
"Baryshnikov is of course the big draw and he infuses his characters with an unexpected modesty and grace, and in "Man in a Case" with a bit of stoic foolishness. As the suitor of the married lover, he is a bit more lively, but his sense of frustration and resignation can be palpably felt. While there is not a lot of outright dancing per se, one appreciates the carefully modulated movement that dominates nearly every scene. It may take a while to enter the special world created by Parson and Lazar, but the end result is a unique experience that continually piques your interest while revealing new and effective ways to capture a narrative." — The Examiner