It's winter, and winter wonderlands bring to mind evergreens and warmer climes -- for me, at least! So this blog is focused on Living Art -- projects to do with your school or community that engage everyone, are stunningly beautiful, functional, and full of science and history exploration opportunities.
What the heck is Living Art?
In a nutshell, structures and sculptures made from alive plants (and some people would include running water). These are not just your king's topiary! I was recently in Texas, and visited the Houston Museum of Natural History  and its adjacent Japanese Gardens in Hermann Park. Gracing the grounds are wonderful huts, for lack of a better word, made of saplings. I thought immediately of my colleague Bonnie Gale.
I had known about Living Art for sometime before meeting a willow-artist, but it wasn't until I worked with Bonnie Gale of Living Willow  that I really understood its potential as a community arts medium, and as a fabulous part of any school curriculum. She writes,
"Living willow structures (such as gazebos, tunnels, outdoor living rooms) have so much potential in the landscape. Structures are made from long, live willow rods that are pushed into the ground and then woven. Willow will self root and self graft so rods can literally be pushed straight into the ground. Living structures are often built in schools and communities with grant monies. In school settings, the design of the structure has been the logo, motto or mascot of the school. Living willow structures transform a bare yard into instant green three dimensional space providing shade, play and interest." (This picture shows some of my family at HMNH.)

Where can I see some, or get help?
In addition to the amazing Bonnie Gale and Living Willow, there are a number of artists and places that specialize in this kind of work, and parks are adding more all the time. There's Inspiration Green in the U.K. and the Bluestem Nursery in Canada, and I feel sure that a bit of Internet searching would reveal more. Bonnie says, "The students and community members are involved in all stages of the structure from conception, design, layout, ground preparation and building through to on-going maintenance. Living structures are community building catalysts getting neighbors to communicate and work together ... I love making large scale installation art. The bigger the better!
Due to the recent degree in landscape architecture, I also love large scale design where the structures are incorporated with other materials, such as corten, rock and runnels. Successfully building living art which is rooted and growing in the ground, has a great deal of challenges not found with inert materials. The live material is so special and has profound energy....it clearly is a dynamic partnership."
A fabulous example you can visit
The Lady Bird Johnson Wildflower Center, "a public botanical garden dedicated to creating a more sustainable earth through research and education," completely blew me away. Living structures, alive flowing water, towers, bridges, caves and pathways, and wild learning stations made this park a "must see" for me. If you are in Texas, add it to your list of fun places to be.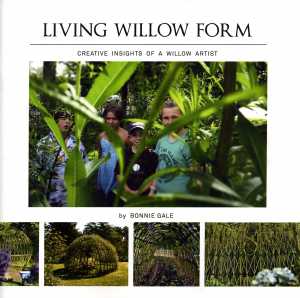 But no matter where you are, give some thought to finding community partners for this kind of project -- long lasting, and far-reaching, Living Art is an incredible way to mix art, science, and public use space!
A little more about Bonnie Gale:
"My life as an artist is totally oriented to spatial containment and definition. I started with Geography at school ('60s) and then on to City Planning ('70s) to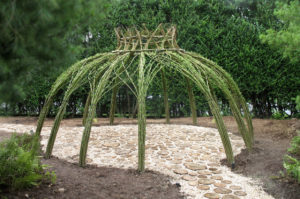 making baskets ('80s) to being an installation artist of living structures (2000s). It was all pretty logical but at the time, leaving the job world and becoming a basketmaker felt a complete change."
Bonnie Gale has been a professional traditional willow basketmaker and willow artist for the past 31 years. In 1999, she was awarded an Artist's Fellowship from New York Foundation for the Arts. Her living willow installations have been featured in Vogue, Vogue Living, House and Garden and Fiber Arts magazines. In 2009, her work was featured in the PBS "Cultivating Life" series and in 2010, she appeared on the Martha Stewart show. She produced her first book: Living Willow Form in 2014. Her main web site is www.bonniegale.com. Her living structures can be viewed on the web site www.livingwillow.info
Thank you for reading this story…
More people are reading rabble.ca than ever and unlike many news organizations, we have never put up a paywall – at rabble we've always believed in making our reporting and analysis free to all, while striving to make it sustainable as well. Media isn't free to produce. rabble's total budget is likely less than what big corporate media spend on photocopying (we kid you not!) and we do not have any major foundation, sponsor or angel investor. Our main supporters are people and organizations -- like you. This is why we need your help. You are what keep us sustainable.
rabble.ca has staked its existence on you. We live or die on community support -- your support! We get hundreds of thousands of visitors and we believe in them. We believe in you. We believe people will put in what they can for the greater good. We call that sustainable.
So what is the easy answer for us? Depend on a community of visitors who care passionately about media that amplifies the voices of people struggling for change and justice. It really is that simple. When the people who visit rabble care enough to contribute a bit then it works for everyone.
And so we're asking you if you could make a donation, right now, to help us carry forward on our mission. Make a donation today.